Car Hire in Burgau, Algarve
Book online with us and save up to 37% on your Burgau Car Hire
Burgau Information
Burgau - Introduction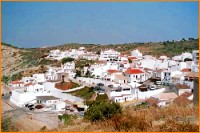 ABurgau is located 10 minutes drive west of Lagos in the Algarve Portugal. If you have the 'Burgau bug' already then any description will not be sufficient, but peaceful, unspoilt (almost) and friendly is a good place to begin. Its unique charm is the villages ability to appeal to everyone, regardless of age or interests. People who have been once usually come back time after time. It has an X factor that has to be experienced. For those who haven't experienced Burgau or maybe have been to the other end of the Algarve or have never even been to Portugal here's the facts.

Burgau can be found about 90km west of Faro Airport. That's about 1 hour in a car ( shorter if you take a taxi!).

Burgau is nestled on the edge of a national park. It is still a working fishing village and watching the boats bobbing on the moonlit waters is a great sight.


The beach is beautiful and you are awarded a gorgeous sandy blanket on which to wallow away those lazy days. Those that can't sit still can choose to run/walk up the big hill that is the backdrop to Burgau (see pictures on main page….but beware its bigger than it looks especially if like a mad dog you try it in the midday sun!). Walks are fantastically rewarding around Burgau, try the coastal walk to the next village Luz or the other way to Salema. Anybody that likes to explore can really enjoy Burgau as their base to travel to the west coat (beautiful beaches/surfing). Monchique (mountains/ chicken piri piri) .Sagres (the end of the world/great sunsets)


If lazing around is more your bag then Burgau could be enough for you. The locals are fantastic and friendly and generally speak English, although you will get a bigger smile if you at least try a little of the native language. Every morning if you arise before midday! Then you can stroll to the bus-stop where a market will appear. Every day you can buy something different, clothes, kitchenware, fish, or vegetables etc. The post van even pulls into Burgau every day except weekends. So you really don't have to leave the village at all! What you will take away if you visit Burgau (along with a suitcase full of local spirits and pottery) is a holiday memory to treasure and more than likely one you will keep returning to mentally or physically.

Burgau - Golf
Please visit Portugal Golf for essential golfing information.

Burgau - Taxi
Faro Airport Taxi > Burgau

Burgau - Nearby Locations

The nearest town is Lagos located to the east. Also to west is Vila do Bispo that acts as the administrative centre for the area and also houses a few good fish restaurants. In the 8th Century about one kilometre to the southwest of this town was the seat of a religious Order known as the Igreja de Corvo. Founded by Christians from Valencia seeking refuge from the persecution of the Spanish ruler Abderramão I, all visual traces have been removed in the course of time. However, in the immediate vicinity are over 250 "megaliths" and other signs of ancient civilization dating back thousands of years.

The area was recorded by the Moors as being very rich and providing hospitality to all travellers regardless of their faith. From Sagres the traveller can either go north or back to the east. Along the south coast just to the east is the superb open beach of Martinhal that is popular with windsurfers. Further east are the small and unspoilt beaches of Ingrina and Zavial, whilst further on is the more developed beach of Salema. Just to the east of Vila do Bispo near the small village of Raposeira is the modest 13th Century Chapel of Nossa Senhora de Guadalupe, reputed to have been used often by Dom Afonso Henrique in his religious devotion.

The beaches immediately to the north of the Cape are more exposed to the winds and rollers of the Atlantic with quite dangerous offshore currents. Further to the north of Vila do Bispo is the open sandy beach of Bordeira. About two-thirds of the journey north to this beach is a turning left to the small village of Pedralva. The village is now nearly completely unoccupied but it shows to the traveller a picture of what the Algarve looked like prior to the invasion of tourism and how life was once very demanding.


Burgau - Map (Click Here)


We Provide Custom
Quotations with Fast
Personalized Service

Estimated Reply Time (1 Hour)
From 10:00 AM till 22:00 PM
---
Portugal & Algarve Weather Forecast